Bagi yang suka main game ofln ataupun online .. ini software yang pasti berguna untuk teman² !!
okee kalo begitu .. aku jelasin dulu apa itu IOBit Game Booster ??
IOBit Game Booster adalah sebuah aplikasi yang dirancang untuk membantu mengoptimalkan PC agan – agan untuk bermain game secara responsif.
IOBit Game Booster bekerja dengan cara menutup sementara proses background, membersihkan RAM, dan mengintensifkan kinerja prosesor, dan mengalokasikan memori khusus untuk performa grafik dan kinerja game.
IOBit Game Booster juga dapat mengatasi lag dalam bermain Game Online, dalam arti lag bukan karena koneksi internet, melainkan lag karena kinerja komputer yang menurun akibat gaming.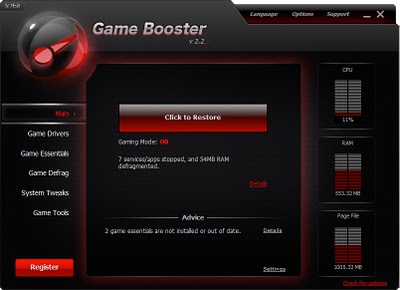 -Menambahkan dan mengelola permainan di dalam box menu dan meningkatkan permainan secara otomatis ketika dimainkan.
-Menjaga beberapa driver untuk game agar selalu up-to-date, termasuk driver untuk kartu grafis dan suara.
-Menyederhanakan dan mempercepat saat download dan update software yang digunakan untuk meningkatkan game experience, termasuk Ventrilo, TeamSpeak, Xfire, dan Steam.
-Merubah kinerja PC untuk mendukung agar permainan memiliki tampilan yang terbaik.
-Memberikan pengaturan untuk mouse, keyboard, dan game control dengan mudah, serta mengecek kecepatan proses komputer yang sebenarnya.
Sistem Operasi Yang Kompatibel
-Microsoft® Windows® 7 (32-bit and 64-bit) Starter/ Home Basic/Home Premium/Professional/Ultimate.
-Microsoft® Windows® Vista (32-bit and 64-bit) Starter/Home Basic/Home Premium/Business/Ultimate.
-Microsoft® Windows® XP (32-bit and 64-bit) with SP2/SP3 or Home/Professional/Media Center.
-Microsoft® Windows® 2000.
Free Download IOBit Game Booster v2.2 Premium..!!